What started as a 4-H project for our daughter has turned into a family passion. When our daughter said that she was interested in raising Nigerian Dwarf goats for her 4-H project we decided to visit a dairy goat farm, well that was all it took to start our adventure in animal husbandry (one of the many big words we have learned along the way.) On that trip we ended up coming home with our first chickens and a daughter who could not wait until we could bring home her new goats.
  We now attend multiple 4-H events/meetings a month and participate in about 9 shows a year, including the Baltimore County 4-H fair, the Maryland State Fair, MDGA shows as well as ADGA Nationals with many well earned ribbons and trophies including several Junior Champion Doe wins and Grand Champion wins as well as Best in Show.

  We have undertaken our own dairy goat breeding, priding ourselves on breeding show and milk quality Nigerian Dwarf goats who are dual registered with the AGS (American Goat Society) and the ADGA (American Dairy Goat Association) in order to provide others with great show and milk quality goats.  We have also started a goat leasing program for 4-H and FFA youth who would like the opportunity to show a dairy goat but do not have the space to keep goats at their own home.  We enjoy our little farm and our goats have become a part of our family, they have quite the personalities.  In an attempt to provide our animals with all natural Non GMO feed we ended up becoming an authorized dealer for Hiland Naturals Non GMO livestock and poultry feed as well.
Our mission is to educate others on Dairy Goats and their usefulness for farms and families.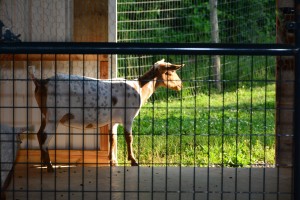 Proverbs 27:23-27 (GNT) Look after your sheep and cattle as carefully as you can, 24 because wealth is not permanent. Not even nations last forever. 25 You cut the hay and then cut the grass on the hillsides while the next crop of hay is growing. 26 You can make clothes from the wool of your sheep and buy land with the money you get from selling some of your goats. 27 The rest of the goats will provide milk for you and your family, and for your servant women as well.