2017 Reservations for Doelings are now full, we will have wethers available. Follow our Facebook page for kidding news.
  Check out our kidding schedule to see what options will be available.

Please contact us to help you find the right kid(s).  Whether you want a champion goat for the show ring, a family milker for making cheese, specific colors, blue eyes or moonspots or just a really cute pet we will provide you with the perfect goat.

Whole herd tested CAE,CL,Johnes negative Nov. 22, 2017

Click on Pedigree for the full Pedigree of each goat.
Sire
Dam
Due/Kidded Date/Comments
Kids
Kickin' Dust
Jovie Pedigree
Kidded Jan. 3rd

K1 Wether SOLD
K2 Wether SOLD
CH Wildwind Farm Epic
Sadie
Due March 22nd
Doelings will be Retained
CH Wildwind Farm Epic
Soraya Pedigree
Due April 11th
Doelings will be retained

Reservations
HM – 2 Does
Prices will be posted as kids are posted for sale.  We offer discounts for goats purchased by youth for 4-H and FFA projects and for purchases of multiple goats.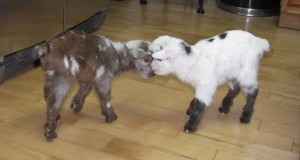 Ryndak Ridge Farm reserves the right to retain any kids born on our Farm. Reservations will be on a first come first serve basis and will be filled based on availability upon kidding.